One–Stop Solution: At Localize Masters, we are equally adept at providing both document translation for simple projects, as well as complex localization solutions for technical documentation, e-Learning, online applications, software, and multimedia (audio, video, voice-over, Flash, etc.). Moreover, we offer you other services bundle comprising of interpretation, desktop publishing, technical writing, copywriting, and editing & proofreading. While most translation vendors choose to specialize in one or the other, we are truly experts in all these services.
Translation
We provide you with a full range of translation services into and from over 40 languages, no matter the format of your document. Our mission is to convey the total meaning of your text to the target language putting in mind the knowledge of the local market, culture, and customs of the target language.
We specialize in a number of fields
Technical Translation
Operation, Installation, and Maintenance Manuals in the Automotive, Agriculture, Mechanical & Electrical Engineering, and Machinery fields, and others
Medical Translation
Medical Reports, Medical Articles, Leaflets of Medicines Pamphlets, Brochures of Medical Equipment, and others
Financial Translation
Annual Reports, Balance Sheets, Market Surveys, Profit/Loss Statements, and others
Journalistic Translation
Articles, Reportages, Periodicals, Newsletter, and others
Marketing Translation
Marketing Collaterals, Advertising Materials, and others
Legal Translation
Contracts, Certificates, Court Judgments, Patents, and others
Education & E-learning Materials
Course Material, Books, and others
Research Papers
Theses & Dissertations
Related Translation Services
In addition to core translation and localization work, we offer you a full array of translation-related services that help ensure quality and increase efficiency of the overall translation and multilingual localization processes, including:
Glossary/Termbase Creation
We can build terminology databases specific to your product as glossarization is a key factor of consistency in the translated documents.
TM Maintenance
We can identify and fix terminology errors in your product TM like mistranslations, translation inconsistencies, and obsolete translations to make it more efficient in the translation/localization process.
Linguistic Testing
We offer you a linguistic quality assurance of the translated and localized products to ensure the correct in-context linguistic usage of a translated product and, the correct appearance and quality of a localized product.
Editing & Proofreading
Although Editing and Proofreading are at the core of the business model we follow to assure quality, we can offer you them as standalone services. If you have some corporate translated documents that you need to be independently checked, we can help you edit such documents according to your own glossaries and guidelines to ensure that your translated documents fit in with your company culture and tone of voice. In addition, if you are about to publish content on your website or to get it printed to distribute on clients, we can proofread the whole text for you to ensure that it is error-free.
Desktop Publishing
We provide you with a complete desktop publishing package that involves the combination of typesetting (choosing fonts and the text layout), graphic design, page layout (how it all fits on the page), and printing the document. We prepare the translated document for publication in either electronic or printed form through adapting all the translated text, graphs, pictures, and tables incorporating them into the original source design file using state-of-the-art desktop publishing and graphic designing tools. Even in the absence of source editable files, we have the expertise you need to get a localized version of your original product with all the technical modifications required for proper presentation in multiple languages. We work with almost all formats for PC and Mac operating systems.
Software Localization
Localization is the complex process of adapting your software, software tools, software documentation, web pages, help files, on-line tips, and/or multimedia projects to a specific language, culture and locale so that it seems natural to that particular region. Translation is only one of the stages of localization. Localization ensures that the resulting product is not only correctly translated with regard to the target country of use, but also fully preserves its functionality. Localized products or content is an important differentiator making you stand out from other competing products in creating an overall client experience. At Localize Masters, we offer the most advanced localization technologies to ensure that your software is ready for global consumption.
Website Globalization
A corporate website is the first port of call when considering a company and its services. A globalized website enhances visitors' experiences and proceeds to fulfill the site's main objective – be it an informational hub, a brand showcase, a corporate intranet, or an e-commerce storefront. On localizing your website, we are concerned to provide visitors with access to your website's content and functionality in other target markets in their own languages. With Localize Masters, the process of creating, launching, and optimizing your website in multiple languages has never been easier. Website content (images, icons, formats, etc.) needs to be localized to a specific language and culture. Components that differ by country such as time, date, and currency formats should be modified. In addition to our translation professionals, we have website localization engineers who have experience in this field using the latest technologies and tools. Thanks to our graphic and DTP experts, we can modify existing gif/jpg files and the content layout to serve the localization process.
Interpretation
Localize Masters offers you interpreting services in different languages.
Simultaneous Interpretation
This type is most frequently used for large conferences or meetings.
Consecutive Interpretation
This type is most appropriate in smaller settings, such as training workshops, business meetings/visits, negotiations, tourist events, technical seminars, small presentations, training courses and similar types of events.
Over-the-Phone Interpretation
This type can be either simultaneous or consecutive.
Technical Writing
Technical Writing is the communication of complex information and ideas to users who need to accomplish a defined goal or task such as the use of a certain application, product, equipment, etc. Localize Masters offers you a full range of technical writing services covering the development of user manuals, online help, quick reference guides, training materials, and proposals. We follow a certain methodology in developing and maintaining your product documentation to ensure that you are getting the optimum service quality. This methodology is as follows:
Determining the needs of the target audience
Planning the structure of the document
Researching and developing the content
Editing and proofreading the developed content
Delivery of the produced document to the client
Receiving the client's feedback and applying the required changes
Copywriting
We provide you with a full array of copywriting services that help you market your product/service to a wide target audience. Such services include marketing documents, whitepapers, factsheets, case studies, emails & reports, blog & social media posts, website copies, brochures, and marketing collaterals. The same methodology of technical writing is applied here to provide you with a captivating good-looking copy that makes the benefits of your product/service stand out.
Multimedia Services
Consumers increasingly prefer to receive information in a visual way rather than a textual one so that they can get condensed information in a more comfortable, personal, and easy manner. We offer you multilingual subtitling and voice-over services. Our subtitling experts ensure that your dialog or script is clearly and briefly communicated into the target language within the required length to maximize readability for the viewer. In addition, we are capable of localizing your TV programs, radio spots, Internet broadcasts, and instructional videos into a variety of languages. We have a pool of talented native actors who have the expertise to convey your message to both the global marketplace and local communities in the style, tone, and voice you prefer.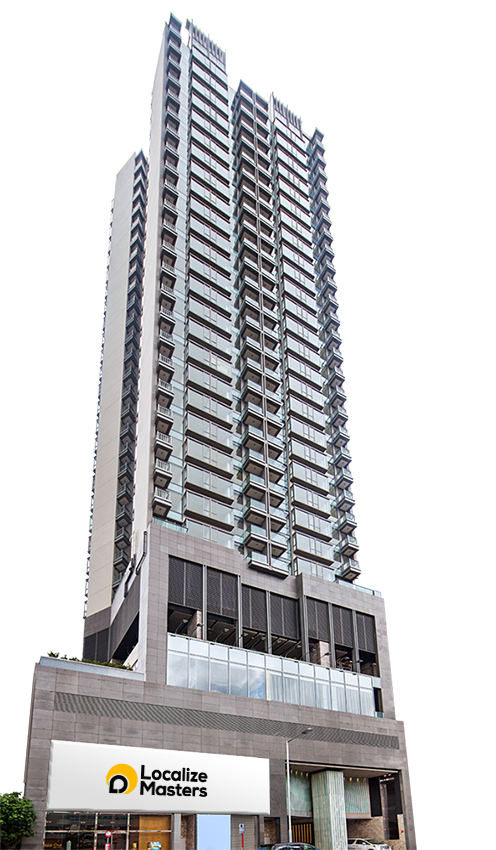 Industries
We are not industry-specific, but rather industry specialists. We support a wide range of business verticals and help you overcome the challenges you face in your sector.
Here is a list of some verticals we support:
Marketing, Advertising, PR
Real Estate
Banking & Finance
E-commerce
Environmental Engineering
Government
Logistics
Accounting
Economics
Energy & Mining
Business Products
Information Technology
Software, Hardware, Technology
Telecommunications
Electronics
Journalism
Household Appliances
Transportation
Tourism
Social Sciences
Training/Education
Engineering
Media & Entertainment
Technical
Literary
Medical/Pharmaceutical
Law/Patents
Life Science
Automotive
Psychology
History
Food & Drink
Game Services
Industrial & Manufacturing
Automotive
Environment
Politics
Philosophy
Human Resources
Management
Sports
We translate to the following target languages: